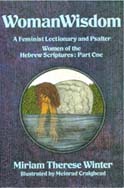 WomanWisdom
Women of the Hebrew Scriptures Part One
Crossroad, 1991. 368 pages. $19.95

Catholic Press Association First Place Award for Books on Liturgy: 1992
ALL
THE
WOMEN
OF THE
BIBLE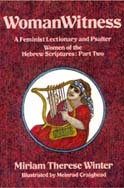 WomanWitness
Women of the Hebrew Scriptures Part Two
Crossroad, 1992. 372 pages. $19.95
Catholic Press Association First Place Award for Books on Liturgy: 1993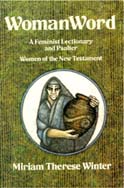 WomanWord
Women of the New Testament
Crossroad, 1990. 320 pages. $19.95.
Website special: all three volumes for $50
WomanWisdom, WomanWitness, andWomanWord
comprise three volumes of one comprehensive work
featuring all the women of the Bible.
The trilogy's 1,000-plus pages recover the lost lives
of the women of ancient traditions
and celebrate their faith-full witness in the context of ritual prayer.
An invaluable resource for liturgy and spirituality
for women and children and men.


Scripture references, texts, alphabetical index for all the women of the Bible


Biographical data and contextual information to facilitate our understanding


150 powerful illustrations of selected women by graphic artist Meinrad Craighead


150 psalms and prayers linking our lives to theirs in ways that inspire and empower


Questions designed to lead us deeper into the meaning of their lives and ours
... and much more.
Order from:
mms@hartsem.edu
See How to Order for further details